Let's not waste your time telling you the benefits of Enphase inverters. Finding your way to this post, there's no doubt you've had the run through by so-called sales gurus and alternative blogs. You're here because you want the juice. The information you need to know before committing to an above-average solar investment.
Enphase microinverters certainly have their place. However, does that automatically qualify them for your installation? NO. Fact is, Enphase inverters have successfully evolved, and in 2020 there are selected models/ system combinations you no longer need to consider.
Beyond being sold a dud (outdated model), you need to know if the price is right, especially when combined with your ideal solar panel selection. Once again, PSW Tech Support to the rescue with your ultimate product insight!
Discover the detail. Get your copy of the latest Perth Solar Warehouse Solar Price list delivered direct to your inbox. 
Enphase is now successfully producing its seventh-generation devices. A result which renders previous generation Enphase models as an avoid on the PSW scale of inverter selection. There's nothing wrong with the past models in their time. However, when investing a reasonable sum into advanced technology, you deserve the latest tech.
Here's the thing with Enphase. The difference in generations will often make little difference for the correct panel size — minor efficiency tweaks, slight output differences, etc. The evolution indeed occurs within the communications gateway, the Enphase Envoy (explained further later). 
Back to the Enphase inverters, so many generations are almost forced as solar panel efficiencies and peak power ratings improve over time. Therefore, it's necessary to be releasing new inverter models every few years.
In this case, newer or bigger isn't always better. One must consider the system as a whole to determine if an Enphase inverter is better for the task. For Perth and Bunbury region customers, it's all about combined system AC output. The limiting factor which you must exploit to ensure maximum possible kWh from a system when grid/ feed-in tariff limitations are in play from either Western Power or Synergy.
Australia has some pretty enduring conditions up on the rooftop. Just think of the middle of Summer. That's why Enphase inverters are equipped with a reliable 10-year product and service warranty.
Different from alternative 5+5-year warranties where the second 5-years is a parts only guarantee. Enphase inverters define consumer assurance with 100% backing if installed to manufacturer specifications.
To ensure your Enphase inverter system is installed to manufacturer specification, ensure you utilise an Enphase endorsed installer such as Perth Solar Warehouse.
Enphase Inverter Warranty Download >
Perth Solar Warehouse Enphase Certified Installer >
Much like the Apple iPhone of solar, Enphase is designed in California, assembled in China. As with many alternative advanced solar technology brands, Enphase's strengths lie within design, technology, software and support. Therefore, manufacturing is successfully outsourced through key partners such as Flextronics in China to ensure such sophistication remains affordable for many.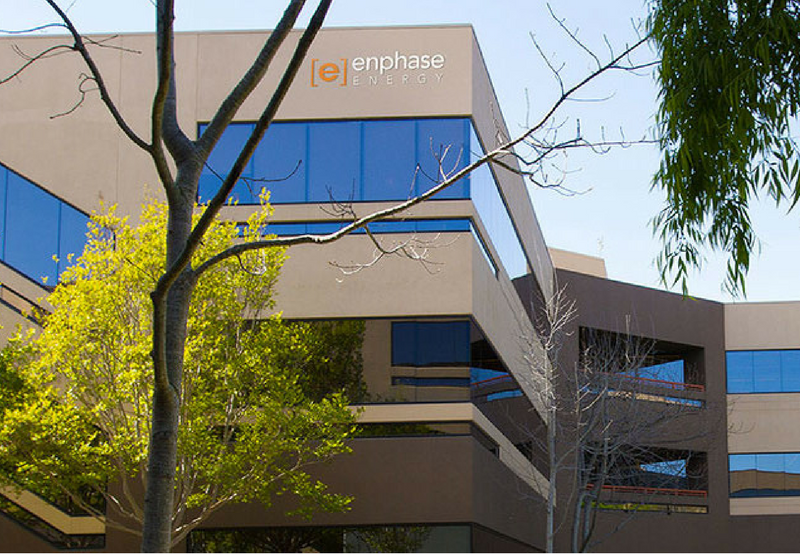 An Enphase system isn't necessarily "Open Source" and therefore utilising it as a replacement inverter technology to an existing system isn't practical. Incorporating Enphase inverters as part of a new system though has many unrivalled benefits and cost differentiates manly between module selection and installation variances.
Enphase solar system options (dependant on panel selection):
Cash payment prices listed for single-level, single-phase and single roof face dwellings with a 5kW Goodwe DNS inverter within PSW Installation Zone 1 after STC zone 3 subsidy has been applied. Additional installation costs may apply (inquire). Nominated price range considers all solar panel options available within the Perth Solar Warehouse range. For the most up to date prices customers should complete the "Price List" form and a copy of the Latest Perth Solar Warehouse Solar System Price List will be emailed.
Here's the great news. Both current Enphase models work with single & three-phase power supplies. Tick. 
Now, you may be selecting a larger solar panel wattage. However, this doesn't automatically qualify the IQ7+ as the ideal candidate. Yes, the IQ7+ does possess a larger DC input power range, but the key for most is the nominated AC output power as this defines grid limitations. 
Inverters are built to cope with module oversizing. Your mission is to ensure that baby can output its peak power for longer — a result which exploits grid limitations and is also endorsed by Enphase. 
Popular solar panel options.
Oversize, oversize, oversize! Taking into account the objective is to oversize as much as possible (33% allowable by the Clean Energy Regulator in Australia), selecting any solar panel less than 315W almost seems a waste of technology. You're investing in superior technology, max it out!
Featured solar panel alternatives:
Above: Tap image to view product overview.
Your ideal system selection continued...
Alternatively, discover your perfect Enphase Inverter infused solar energy system in as little as 5 minutes with detailed annual yield insights and more. Here's how to get some professional selection support…
Even if you select a standard Enphase grid tie inverter, Enphase has a range of battery inverters which can cost equal or less than buying a hybrid solar inverter which can and limit your choice of battery options.  
Don't spend your time deliberating, get in contact with a PSW Tech Support team member who can help match the right Enphase solution to your specific needs. It's free, instant and straightforward. Alternatively hit us up via the below link.
Exclusive ENPHASE Solar Inverter Perth WA deals.
Your ideal Enphase solar inverter option.
Your preferred solar panel technology, compare.
PSW project management portal.
PSW premium in-house installation (no sub-contractors).
PSW leading 15-year workmanship warranty.
PSW stocked compatible solar battery options, compare.
PSW Life Support, discover.
PSW Rewards Club Gold access.
PSW 5-star customer satisfaction as featured on Google and SolarQuotes.
PSW vs the rest, discover the difference.
$0 deposit payment plans available, discover.
Compare the Perth Solar Warehouse Enphase inverter options against the entire PSW product range for price, warranty, design and more within the latest PSW digital catalogue.
In a nutshell, we've lost count of how many variations we could do with our entire Enphase Inverter stock. Get in contact via the above link and you'll be guaranteed the best price for your specific installation. It's that simple.  
Did we miss something you feel other Goodwe Inverters Perth WA shoppers can benefit during their research? Leave it at the bottom of this post! Enjoy the read – PSW Team.