High power solar panels you should avoid.
Resist the temptation of an appealing higher watt class and avoid 72-cell solar panels or the equivalent in modern 144 half-cut cell designs. 72-cell solar panels are primarily designed by manufacturers for ease of installation in commercial, industrial and grid-scale installations. With larger dimensions and increased weight, selecting 72-cell solar panels for a residential solar project is likely to have some detrimental side effects.
Unlike alternative electrical purchases in life where higher wattage is more powerful and therefore often better for the task, the same cannot be said for 72-cell solar panels. Solar panels in general form part of a system and that systems ability to generate power utilising a nominated space.
In most instances, 72-cell solar panels do not reduce the required surface area and are therefore no better than their 60-cell counterparts for the task. There is a pupose for such cumbersome solar panels, and it's not necessarily your residential rooftop. Below are five key areas you need to know before investing your hard-earned money.
Get the right solar with the right advice. 
Browse at your leisure. The latest edition of the Perth Solar Warehouse solar price list includes only 60-cell solar panel options and so much more:
Fully installed 3.3kW, 6.6kW & 10kW+ 60-Cell solar prices.
Exclusive discounts & interactive price guide.
Mix & match inverter technology.
Exceptional solar battery options.
Energy production guide.
Estimated savings potential.
Payment plan options & more!
The best solar packages Perth & Bunbury region customers love. A must view before buying. 
In short, two additional rows of 6-inch cells (12 cells total) added to a standard width 60-cell solar panel form the basis of 72-cell solar panel designs. Such a result alters specific electrical characteristics. However, the primary difference remains the overall larger physical dimensions.
For ease of comparison, below is a table listing critical feature differences utilising the LONGi LR6-PE solar panel range with like for like 60 cell and 72 cell solar module options.
72-Cell
375 W Solar Panel
What are 144 half-cut cell solar panels?
Expect this particular design to replace the 72-cell solar panel variant due to rising demand in the industry. In brief, the 144-cell solar panel is derived by cutting each of the 72-cells in half and arranged in a formation which reduces electrical losses. A result which in turn maximises the efficiency of the solar panel.
The equivalent of this solar panel design in a 60-cell module is 120 half-cut cells. The alternative name associated half-cut cell technology if the number variations weren't already confusing enough is a split-cell solar module design.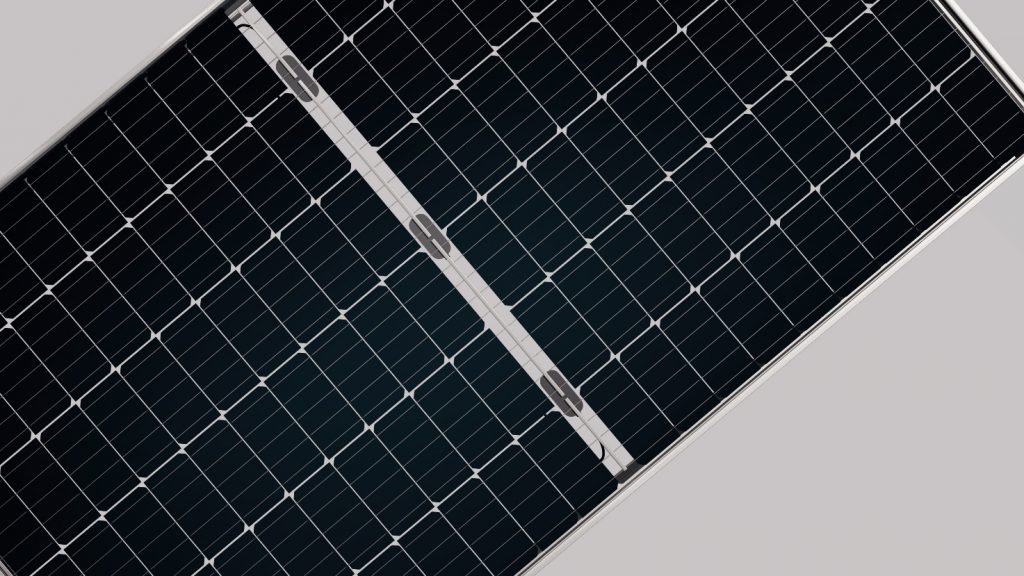 1) Industry. The ability to support the additional weight of a 72-cell solar panel on the selected mounting location is often a non-issue thanks to reinforced load-bearing capabilities.
2) Industry. Reduced installation time through mounting less solar panels. A result which in turn can have a positive effect on the capital outlay required. Considering nearly all solar installations are often priced per/watt, such is a less likely case.
3) Residential. In the rarest of circumstances where selected roof faces are less than accommodating, achieving electrical design flexibility with 72-cell solar panels over the equal counterpart of a 60-cell module make-up is an option.
4) Residential. Specific 72-cell solar panel designs can assist with an aesthetic presentation where bearer spacings are wider. Just ensure additional reinforced support can be installed to accommodate a more centralised weight distribution.
5) General. Particular module-level optimisation and monitoring requirements at a reduced cost. 
1) Residential. A more concentrated and centralised weight distribution. A result which is more likely to upset the structures integrity over time if installed the same way as a 60-cell solar panel.
2) Residential. Not in the end-users best interest, it's cheaper for the company from which you are purchasing. Unlike industry, residential solar companies without in-house installers often pay sub-contractors per solar panel. Less panels = less installation costs. 
3) Residential. Comprised of angled hips and valleys Australian residential rooftops can be limited on space. Larger 72-cell solar panels are challenging to adapt to trickier rooflines due to the larger rectangular dimensions. Overall 72-cell solar panel designs are not a very effective use of space when angles are involved.
4) Residential. Looking to expand or replace in time? If ever need be, or for whatever reason, 72-cell solar panel variants with similar electrical characteristics are harder to source. 60-Cell solar panels are, without a doubt, the most common module sizing, and there is an abundance of options available.
5) Residential. Increased structural wind loading. Solar panels, in general, are like sails, the greater the surface area, the more wind you are going to catch. Even though 60-cell solar panels occupy a similar surface area, the reduced size and increased mounting points reduce the amount of pressure at each location.
6) Residential. Manhandling degradation. At the time of installation, the handling of solar panels is critical. The lighter physical nature of a 60-cell solar panel ensures the likelihood of manhandling stress is lessened. These stresses often present themselves over time in the form of snail trails or microcracks and possibly inturn hotspot.
What is the cost difference?
To purchase by the retailer at wholesale level? Virtually no difference in a like for like 60-cell and 72-cell variant. Often priced on a per/watt basis, solar panels in general form part of a system.
Strip each 60 & 72-cell solar panel variant back to a per watt purchase price at the wholesale level. The cost is almost always identical, as the efficiency and technology define the panel, not its wattage.
FREE Upgrade on Premium Range Panels. With PSW Life Support, to add more solar panels is never an issue. Gain instant access to PSW Life Support by removing your current system and installing a new system with Perth Solar Warehouse.
Mention "EXPANSION BONUS 2020" prior to buying.
Below is the quickest and safest way possible to ensure only 60-cell solar panels. Browse an entire solar range (including installed prices) without the worry of any solar panel option being a 72-cell variant. PSW only quote 72-cell solar panels upon request for specific projects.
60-cell solar panels, as opposed to 72-cell solar panels, are the ideal option for residential solar installations. Reasons to avoid 72-cell solar panels outweigh the reasons to choose, one should think twice if 72-cell (144 half-cut) solar panel options are being specified. 
Remember, avoid the temptation of a higher watt class and be guided by efficiency and warranty to determine the value of a solar panel.
Get The Latest PSW Solar System Deals.
Secure warranty & extra benefits.
Compare the cost to add more solar panels from entry-level to elite options. The entire PSW product range is available within the latest PSW digital catalogue.
Get your copy via the above link, and you'll be guaranteed the best price for your specific installation. It's that simple.  
Did we miss something you would like to know more about? If so leave it below! – PSW Team.