What you need to about SolarEdge inverters.
Clouded by polarising installer perspectives online, SolarEdge inverters and their associated technologies incorporate some significant advantages for prospective end-users. Taking a step back from the noise, there are essential criteria most should consider before investing in SolarEdge.
SolarEdge Inverters Perth WA Product Feature. 
The latest edition of the PSW digital price list includes all the following need to know information about SolarEdge solar inverters:
Fully installed 3.3kW, 6.6kW & 10kW+ SolarEdge Solar system prices.
Exclusive discounts & interactive price guide.
Mix & match solar panel technology.
Exceptional energy storage options.
Energy production guide.
Estimated savings potential.
Payment plan options & more!
The best SolarEdge inverters and full SolarEdge systems Perth WA customers love. A must view before buying.
The last thing you want to do is outlay significant capital expense only to realise you should have opted for an alternative option. Well, fear not! The PSW SolarEdge Inverters Ultimate Guide covers the need to know information surrounding one the more confusing inverter technologies available and its ability to work with your particular installation.
Older SolarEdge inverters with displays are slowly on the way out. A key feature for some, most solar inverter manufacturers now consider an LCD interface a non-essential element. With the rise in popularity of cloud monitoring options, many local displays are now considered surplus and a potential point of failure.
WARNING: Installations lacking that of a stable internet connection should consult a SolarEdge design professional such as PSW Tech Support before purchasing.
A wide range of inverter options ensures SolarEdge inverters are compatible with most power supplies. The big question in the modern-day mainly surrounds battery compatibility of SolarEdge inverters.
The great news is that SolarEdge HD-Wave range inverters can facilitate DC Coupled batteries. By merely installing the SolarEdge StorEdge battery interface ( a small box next to the inverter) the LG Chem RESUHV solar battery can connect to the SolarEdge inverter. A result which doesn't facilitate an EPS function in the event of a power failure, though.
Those requiring an Emergency Power Supply (EPS) function from the battery must select the dedicated SolarEdge StorEdge inverter. Sorry three-phase friends, these are currently only available in single-phase models.
Energy Stoarge (with backup)
Don't get too concerned about EPS features in modern solar and battery systems. Remember, the primary purpose is now energy savings, not a backup power supply. 
Commanding a backup power supply limits the battery to be a useful energy-saving device. A level of reserve energy must be programmed to ensure the battery has available power in the event of a power failure.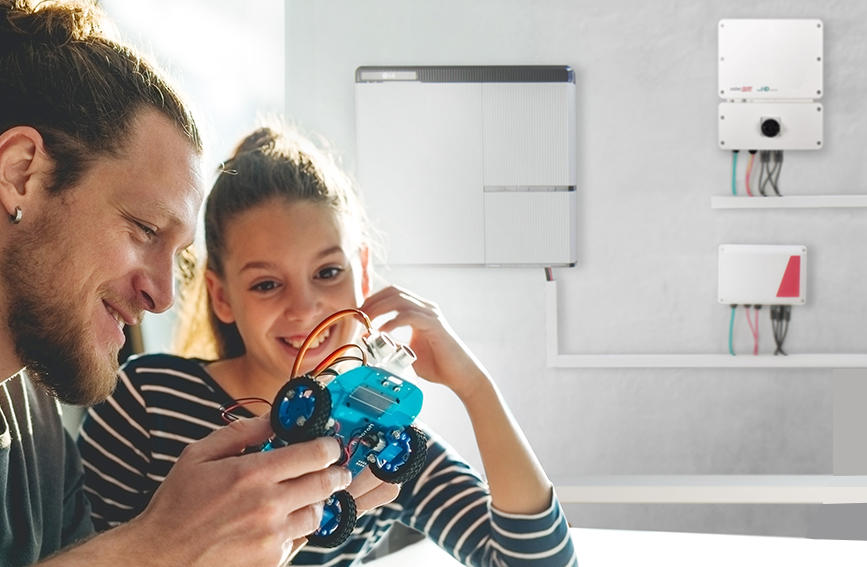 Due to the stripped-down technology nature, SolarEdge inverters are equipped with the industries highest product warranty. Not to be forgotten, as SolarEdge optimisers are an integral component within the SolarEdge system, the SolarEdge warranty is split in two.
Inverter Warranty: A solid 12-years if installed correctly and to manufacturer specifications. No 5+5=10 layered type of warranty. A genuine and straightforward, industry-leading 12-years parts and service warranty.
Optimiser Warranty: Due to the solid-state nature and assurance the optimiser is fit for the warranted life of the solar panel, SolarEdge optimisers are equipped with a 25-year product warranty.
Headquartered in Herzliya, Israel, SolarEdge inverters are historically manufactured via outsourcing agreements spanning three continents with key manufacturing partners for more significant regional support. Romania and Hungry to service Europe. China, catering to the Asia and Australia/Pacific region. Finally Ontario, Canada for the American markets.
As of 2019 though, SolarEdge will commence production of SolarEdge inverters from a newly established 10,000 square meter manufacturing facility within the headquartered region of Israel.
SolarEdge inverters are predominantly incorporated as part of a new system. Most shopping for a replacement inverter wouldn't consider SolarEdge due to the mandatory SolarEdge optimiser requirement. Unless of coarse if the inverter being replaced is a SolarEdge inverter.
Therefore, what should one expect to pay? Well, Solaredge is a bit like a GoPro. You'll need to keep adding attachments to it to reach pro level. That being said, basic SolarEdge functionality still has its place for many.
SolarEdge solar system options (dependant on panel selection):
3kW: $3990 – $7990.
6kW: $5990 – $9990.
10kW: $11990 – $19990.
Want the best price? Get the SolarEdge Inverters Perth WA Product Feature within the latest PSW Catalogue >
What's the cost benefits?
Requiring more significant capital investment for the technology there is no doubt on face value the SolarEdge inverter system appears to be one of the more expensive. A factor which can often be quickly negated by:
Higher return on investment potential through optimised performance.
Refined asset management through module-level monitoring.
Superior software and overall energy monitoring insight.
Ultra safe DC – 100% DC arc fault avoidance.
Severely reduced battery integration costs.
Electric vehicle charging capabilities.
And the list continues to grow from 2020 and beyond as SolarEdge moves closer towards becoming the only one manufacturer solution for end-users.
Single-phase power supplies, fortunately, have the luxury of choice in this instance. Reduced capital investment in the ultra-efficient SolarEdge HD Wave or the backup power supply capabilities of the SolarEdge StorEdge (not essential for battery integration).
Three-phase power supply installations, well the choice is easy, the SolarEdge Three-phase inverter. Also compatible with batteries via the additional SolarEdge StorEdge interface. Unfortunately no emergency power supply function. It's all about maximum energy saving, though, right?
Popular solar panel options.
Considering there is an additional expense of the SolarEdge optimisers for each panel, selecting low-efficiency solar panels which would require more panels for the desired system size wouldn't make financial sense. Therefore, reduce the number of necessary optimisers with high-efficiency solar panel options.
Special mention to SolarEdge's new fully integrated smart solar panel. All-in-one SolarEdge panel and optimiser. A one manufacturer solution for the ultimate peace of mind.
Compare all Perth Solar Warehouse solar panel options side by side in feature rich detail. Compare now >
FREE SolarEdge Energy meter. Receive advanced energy monitoring insight with a free SolarEdge energy consumption meter when purchasing a SolarEdge HD Wave single-phase infused solar system by Perth Solar Warehouse!
Mention "SOLAREDGE BONUS 2020" prior to buying.
Your ideal system selection continued...
Take the headache out of selecting your ideal product combination, especially when considering SolarEdge inverters. Your friends at PSW can always help with little to an abundance of feedback, you call the shots.
There is a good reason why much hype exists around SolarEdge. The issue for many solar installers, though is that the installation requirements surrounding such an advanced technology are very different from basic string inverter type systems.
Always select a manufacturer endorsed installation partner when considering any component to ensure effective operation, superior performance and warranty security.
Exclusive SolarEdge Inverters Perth WA deals.
Secure warranty & extra benefits.
SolarEdge inverter systems are the ideal foundation when you know you want more in the future. Here's why…
Despite the GroPro type add-on nature, future adaptations are made exceptionally easy and for less expense as opposed to conventional string inverter. A superb example is the ability to integrate the remarkable DC Coupled LG Chem RESUHV solar battery range for approximately 30% less than AC coupled solar battery options.
Compare the industries best solar batteries side by side. Compare Now > 
Help other Perth & Bunbury WA locals with more SolarEdge insight! Need to know more? Ask in the comments section below. – PSW Team.